Lake of the Ozarks Fishing Trips & Tournament Lodging
Called the "cornerstone of the fishing world," Lake of the Ozarks is a boater and angler haven. Carp, musky, and bigmouth buffalo are just some of the prized fish here on this impressive body of water. Some other highlights include record-breaking freshwater drum, flathead catfish and striper catches.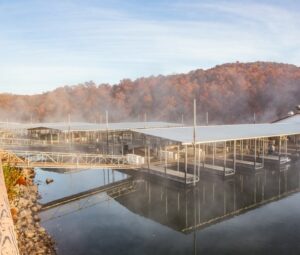 Types of Fish in The Lake of The Ozarks
The Missouri Department of Conservation refers to the following fish as your "best bet" to find within The Lake of the Ozarks:
Largemouth Bass
White Crappie
Blue Catfish
Channel Catfish
White Bass
Paddlefish
Bluegill
Lake of The Ozarks Fishing Tournaments
Camdenton, Missouri is the home of many expansive advanced angler fishing tournaments hosted at The Lake of The Ozarks. Fishers from near and far rent a boat slip or camp out for the week to reunite and compete for the title of 'Best Catch'.
A Fisherman's Place To Rest
Red Oak Resort & RV Park has prime pre-fishing tournament sleeping quarters for experienced anglers or toddlers throwing their fish reels. We have condos, cabins and campsites available to reserve for your fishing trip at The Lake of The Ozarks.